07/28/07
Boys Weekend - July 2007
For the last two years, my wife and her best friend have taken a pilgrimage to Kelleys Island, OH for "Girls Weekend", leaving me with the kids at home. Well, this year I decided that what is good for the goose is good for the gander... er, other goose...oh nevermind, you get the point. :)
First, some brief history on Kelleys Island. In 1830, my Great great great great (that's 4 greats for those of you scoring at home) grandfather Irad Kelley and his brother Datus purchased all or most of the land on what was then called Cunningham Island. They settled on the island and started a wine business as the humid conditions on Kelleys Island are ideal for growing grapes.
Irad Kelley (let there be no mistake where JRo's nose comes from) :
In 1930, 100 years later, my great grandmother (who I think I met but don't remember) Alice Williams (nee Hill, daughter of Norman Hills, who wrote the book on Kelleys Island - literally (get it? literally?)) and her husband Roger Sr bought a piece of lakefront property on the advice of her father, Norman. On this bit of lakefront property they built a small cottage which has been enlarged over the years. My paternal grandparents currently live in this cottage during the summer, going down to Florida for the winters. My maternal grandparents also live on the Island year round but that is a story for another day.
Thursday
On Thursday night, my father and my oldest brother drove down from their house in Zion, IL to our house in Schererville, IN. It was my father's 55th birthday so my wife got him a cake and we gave him a framed picture of our two kids.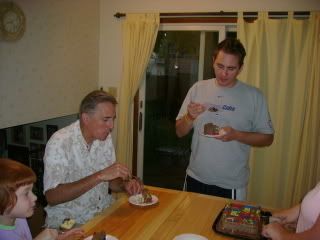 After an hour or so of spending time with the grandkids, we put the little tikes to bed and my father, brother and I went to bed also.
Friday
My dad has always been one of those crazy "get up at the crack of dawn" people. So we rolled out of bed at 4:30am to head to Kelleys. He said that when he starts out from his house he starts even earlier. We stopped for breakfast at Mickey D's at the toll stop in South Bend. Nothing like a good old fashioned grease brick to make a five hour car trip all that more enjoyable. :) My dad is also the kind of guy who knows absolutely everything about every single song that he has ever heard : who the drummer was, who wrote the song, what they had for dinner that night, who they were dating when they recorded the song, what piece of naughty indiscretion was the source of inspiration for said lyrics, and the list goes on and on and on. After a while, you just gotta smile and shake your head at him like the rest of the world does.
The weather for all four days was just spectacular. Low 70's and plenty of breeze. If anything, I was a bit cold at times but on humid days, that is certainly preferable to being too hot.
We got to Kelleys at about lunch time and my dad took my brother and I to lunch at the Village Pump. The rule of the weekend - "Dad Pays!" No arguments here. There are a few choices for food on Kelleys Island : Village Pump, Bag the Moon Saloon (used to be the Porthole), what used to Matso's (forgot what they call it now), The Island House, Kelleys Island Wine Co, the VFW on certain Saturday nights and that's about it. The Village Pump is run by Gary Finger who is just one of the nicest, most enthusiastic guys you will ever meet in your whole life. Gary just "gets" it. The service is fantastic, the food is great (mostly a typical diner menu - burgers, fish sandwiches, etc), and the atmosphere is always full of life. My dad and brother had Walleye bites and I had a "Pump Burger".
After lunch it was back to Grandma and Grandpa's for unpacking, R&R, and some time to catch up with the grandparents. Dinner at my grandparents house is always preceded by what we call "Happy Hour", which is your choice of beverage and some appetizers. My grandma and grandpa's imagination for all things appetizer is truly a wonder. Shrimp, Crackers, Cheese, Sausage and all sorts of bizarre experiments I've never even heard of. This weekend we had some sort of bizarre cheeze ball that had a crusty spice outer shell. Delicious. My grandparents are also white wine drinkers - I'm not sure whether my grandparents know how to pick really great wine or whether it's the Island, but wine always tastes REALLY REALLY good at my granparents' cottage on the Island.
For dinner, my grandpa grilled a marinated steak that was (as usual) sensational. For dessert (we leave no meal course untouched in the Williams Family), we had this absolutely incredible angel food cake topped with strawberries. Yum.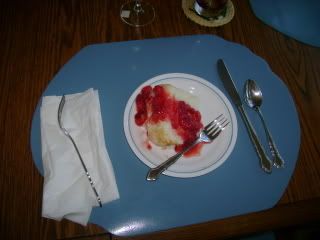 I think it was Friday evening that we watched a DVD produced by a longtime Cleveland news personality known as "Big Chuck" and his friend "Little John". If you ever make it to Kelleys Island and you're curious about the Island's history and attractions, this DVD is a solid primer and is currently being sold at the Kelleys Island Historical Association just north of downtown. If you're reading this after Summer 2007, I'm not sure that it will still be there. My grandparents are volunteers at the Historical Association and they tell me that the news outlet gave them permission to sell only so many copies. Where it will go from there, I really don't know.
On Friday night, the steak started talking to me. Since my brother was sleeping in the same room, he got to enjoy the "conversation" as well. This little brotherly "feud" became one of the more humourous episodes of the weekend. All parties have acknowledged that I won the battle decisively and that the room we slept in needs to be repainted.
Saturday
First thing in the morning dad decides he wants to go out for breakfast. Man, this weekend is going just like a LAN at Stryker's! :) I briefly considered the biscuits and gravy but went with the belgian waffle topped with strawberries (yum) and a side of thickest juiciest bacon you have ever seen. Yum.
When we got back from breakfast, Grandpa invited us out on his sailboat. I have been going sailing with my grandpa for as long as I could remember but I have not gone for a couple years because I didn't want to leave my kids who were always with me. Now that it was a men only weekend, I had my opportunity and off we went! My grandfather has been sailing Lake Erie since he was a very young man (boy even, perhaps) and he is a very skilled sailor. Incidentally, my g-g-g-g grandpa Irad was apparently quite the sailor as well, fighting through a horrible storm one night on the north side of the island - the lighthouse that brought him home was the same lighthouse that I proposed to my wife under in 2000. My brother stayed at home - he had surgery recently and didn't want to test his medication on choppy waters (wise choice, I thought).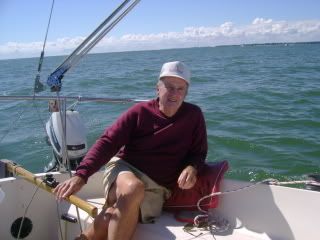 My grandfather asked me to take this picture of him. When I showed it to him later, he told me something that I'll never forget. He asked me if I had ever seen collages of photographs of people. He said this picture was what he wanted people to see and remember about him after he was gone. Wow. I got a little choked up when he told me that.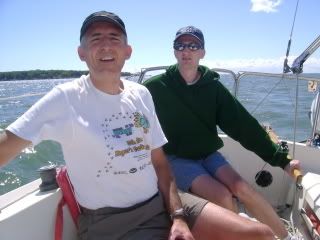 Perry's Monument on Put-In-Bay Island :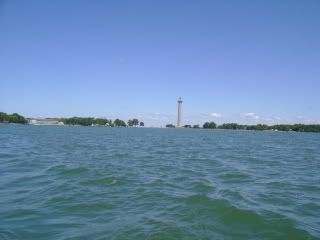 For most of the journey, I was at the helm. We sailed from the marina at Kelleys Island to Perry's Monument at Put-In-Bay. While I sailed like a complete amateur, I got us most of the way there and back without serious problems. The one problem I had was "playing the puffs" on the way home. When we got into the "lee" of the island, the wind really died down and I had a hard time keeping any velocity going so my grandpa tried to show me how to look on the water to see when the wind puffs were coming and how to steer the boat in such a way to get the most power out of those puffs.
The red line was our approximate trajectory. The blue line was the approximate prevailing wind direction.
After the sail, I took a quick nap (sleeping on Kelleys Island (especially near the lake) is about as good as it gets) while my dad and brother took my dad's kayaks out onto the lake. Apparently my brother capsized his kayak and lost his $20 sunglasses. That's okay - they were ugly anyways
. Another happy hour was followed by dinner at the VFW. Chicken, Potato Salad, Cole Slaw and Cake! Beer was available - I drank Iced Tea. Another weird thing about Kelleys - I drink a lot of Iced Tea. I don't drink it at home and I don't typically drink it at restaurants, but on Kelleys, it's my beverage of choice. My grandmother is an artist at making iced tea. The iced tea at the VFW was passable but not spectacular.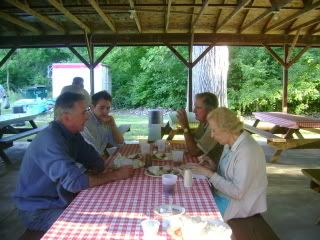 Saturday nights are typically the night we drive over to the breakwall on the north side of the island to walk off some dinner followed by a trip to the West side of the island and watch the sun go down behind Perry's Monument on Put-In-Bay Island.
North Beach (sometimes called "Sandy Beach", adjacent to the State Park (somewhat visible in the far distance). As you can see, there is a boat loading ramp there for public use.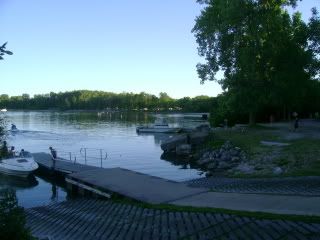 Breakwall : we typically walk out to the end of that point and walk back. People typically fish either off the breakwall or from boats in the bay or out past the breakwall.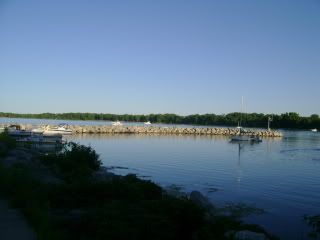 Sun setting over Perry's Monument on Put-In-Bay Island :
Because this was the weekend of "Islandfest" which is basically a street dance, a parade and a massive sidewalk sale, we got fireworks on Saturday night. My dad said he wasn't going to go, so he stayed home with my brother. So I rode out to the Marina with my Grandma and Grandpa to watch the fireworks. Well, we had barely set our chairs down when this guy who I had never seen before comes over to me and starts pointing at me with an incredulous smile on his face. Well, eventually my grandparents recognized him and I figured out what was so funny. He was a childhood friend of my dad's and saw me (I was wearing a hat and it was somewhat dark) and he thought that he had somehow traveled back in time and was looking at my dad from 25 years ago. When we told him my dad didn't come he instantly jumped on his cell phone and called the house. He had some kind of code phrase which apparently they had used a lot as kids and as soon as my dad heard him say it, he knew exactly who it was. My dad showed up about 10 minutes later with my brother. Watching this little mini-reunion was one of the real highlights of the weekend for me. It was funny - they picked up like no time had ever passed.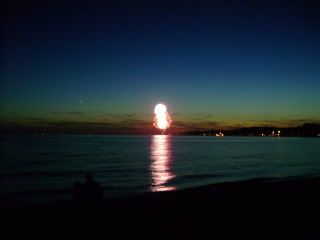 Saturday night was Round Two in the brotherly feud. JRock 2, Brother 0. He did put up some fight of his own but I shamed him with my sheer power. My dad said our laughing / coughing could be heard down the hall in the cottage. Such adolescent behavior from a 32 year old man and a 27 year old man. Ain't it great?!?
Sunday
Sunrise on Sunday Morning :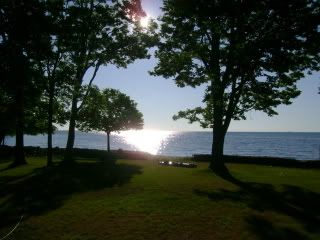 Sunday began with some fantastic Starbuck's French Roast coffee provided by Grandma (the only fellow coffee drinker on that side of the clan). My crazy father took his kayak and paddled completely around the island (roughly three hours). I ran down to the shore to help him pull his boat out of the water when he got back. Then Dad, my brother and I set out for the North Shore Loop hiking Trail. We grabbed a couple of Gatorades on the way out and my dad and brother had finished theirs by the time we reached the parking lot and I nursed mine for the better part of an hour. I drew plenty of flak from my dad for that.
First stop was the Glacial Grooves. Time for more natural history. Kelleys Island is 90% limestone with a layer of topsoil. During the last Ice Age, huge glaciers carved very smooth ridges into the limestone. When the quarry companies uncovered this, they had every intention of grinding it all up and shipping it out to the mainland. Thankfully, G-G-Grandpa Norman Hills stepped in and said "no you don't". He got the state to declare the site a landmark and it is now protected.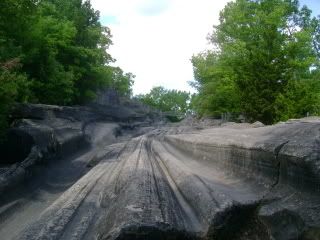 Also visible from the Glacial Grooves site is the Quarry where the LaFarge corporation is still removing limestone from the island to be used for building roads. In about three years, they will cease production and they plan to build a canal along the current conveyor line and fill the quarry with water, making a large inland lake and then surround the lake with luxury houses with private docks. I know a little bit about Island politics, and I think this process is going to be fun to watch.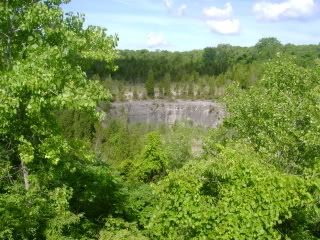 Next stop was the North Shore Loop Trail. The North Shore Loop trail exists on an older part of the Quarry grounds. Why they stopped quarrying here I don't really know but in any event there is a very scenic trail through the "forest" if you can call the collection of weed trees a "forest". One thing you will see a lot of on Kelleys Island is toppled trees. There is not enough topsoil on Kelleys Island for trees to gather enough roots, so trees (espcially big trees) will routinely be seen fallen over.
The trail peeks out on to the lakeshore in two places. There's some pretty great views from these "outposts".
Quarry Building adjacent to trail :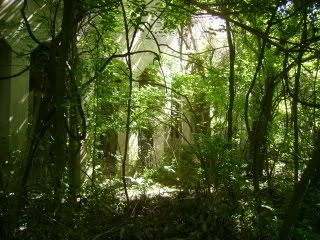 One of the two lakefront outposts :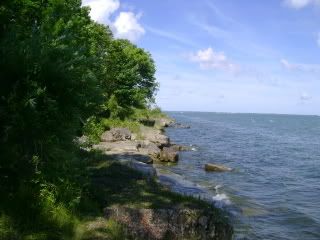 Sunday afternoon was time to sit back and talk with the Grandparents while Dad and my brother napped. This was followed by another happy hour and a trip to The Island House. I believe the Island House holds the distinction of being the first hotel on the island. For as long as I've been alive, it's been the only "fine dining" option on the Island. About 5 (?) years ago, the place changed ownership and they went significantly more upscale. Although the food definitely lives up to the price tag (dinner and wine for five was pushing $200), our family has been less than impressed with the service since the change. However, they were nice enough to take this photo for us :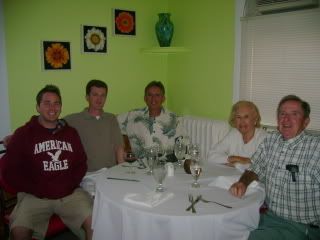 Sunday night was a very laid back affair. Mostly, we just sat and talked. I walked down to the beach and stared up at the sky. Kelleys Island is one of the only places I know of where you can look up and absolutely lose yourself in the content and quality of the night sky. Because there are no major light sources (cities) anywhere near Kelleys Island (Detroit is west, Cleveland is east), the stars absolutely dazzle on a clear night.
Monday
Monday Morning was our scheduled exit so I thought I'd get in one last walk around the Island before we left. I was gone much longer than I anticipated but when I got back, my dad said we were not in any hurry to get home.
Cloudy sunrise on Monday :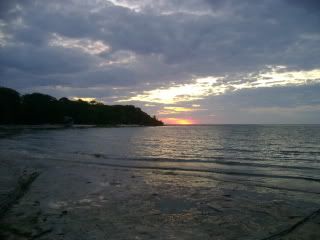 The Marina (my grandpa's sailboat is out of frame to the left) :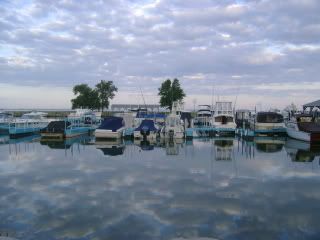 Kids throwing stones down by the Marina (in the distance in that pyramid covering is Inscription Rock which was inscribed by Indians on the island 100's of years ago)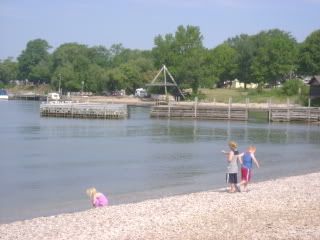 At long last it was time to go, so we packed up our gear and said our goodbyes.
Ferry Boat to take us back to the mainland :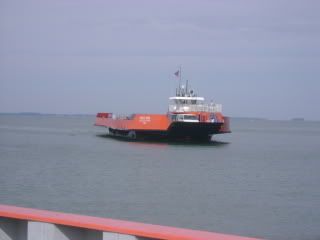 Over on the mainland, we made a stop at the Marblehead lighthouse :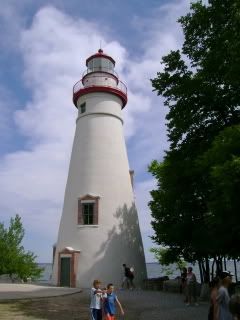 From there, it was onto the highway and home. Hard to say we didn't get our money's worth out of the trip. When I asked my dad if we could do this earlier this year, I imagined that it would be a fun time. I never imagined it would be as great as it was.